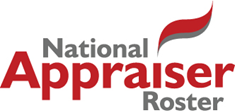 It's simply the best combined national directory for real estate appraisers on the internet!
• Do you ever tire of getting email after email from this appraisal directory or that appraisal registry all claiming to be national appraiser listings?
• Have you clicked on those links and looked to see how many appraisers are actually listed in your city or county?
• Do the searches often show "no results found"?

If you answered yes to all these questions, then NationalAppraiserRoster.com is for you!

NationalAppraiserRoster.com is a truly national listing of active real estate appraisers (over 100,500 licenses as of 06/03/2014). Through advanced technology, we have combined multiple data sources into a single efficient search.

One of the unique items of our display listings is a feature called Appraiser Origin County. With this feature, which is based on the county of your license address, a lender can quickly identify a local appraiser.

If you are an active real estate appraiser in the US, then you are already listed on NationalAppraiserRoster.com. If you are active and FHA approved, your FHA status is already shown on NationalAppraiserRoster.com. Don't believe us? Try it for yourself. Type in your name or your license information and your listing will be on our website. You can register and update your VA approval status, update your phone number and verify your origin county for FREE!

Of course, you could enhance your listing information on NationalAppraiserRoster.com with additional information including your email address and website, your company name and address, information about your appraisal services, counties you serve and much more. You can also craft your customized listing with highlighting or bolding to create a listing suited to your needs and budget.

To create a one stop source for appraisers and appraiser clients, we have included links to resources (over 5,000 and growing) including over 90% of all the counties in the US, over 200 Federal government sites featuring maps, handbooks and other regulations and many, many more useful links.

There is also a 10,000+ term glossary and a handy conversion calculator.

To create a customized individual appraiser listing, register now at NationalAppraiserRoster.com

We have individual pricing plans for as little as $15 per year and bundled pricing plans for as little as $65 per year. Not sure how much you want to spend on advertising? You can start small with just the basics and upgrade at any time.

Purchase an enhanced listing before June 15, 2014, and you will get a 20% discount (even on top of the already discounted bundle packages!) by using coupon code: 20ARWRE15 at checkout.