You may only have one opportunity to close the deal
with a potential client. Make your home inspection
business the obvious choice.
Home Inspection Warranties
The Complete Protection ( CP™ ) 120-Day Guarantee provides your clients with a warranty on the major mechanical systems in the home.
HVAC:

AC/Furnace

Plumbing:

Water Heater/Leaks
Electrical: Wiring/Main Panel/Outlets & Switches
Appliance Coverage:
1) Dishwasher
2) Oven/Range
3) Refrigerator
4) Washer
5) Dryer
6) Microwave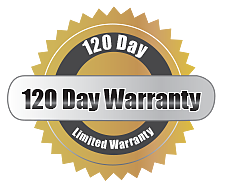 Includes Professional Marketing Collateral
The 120-Day Warranty Program includes professionally designed marketing materials for your clients. Post marketing collateral on your website, social media, mobile app or hand it directly to your clients.
NEW! Purchase a pack of 10 or more warranties and receive the Ready-to-Go Marketing Toolkit.
Build Their Trust.
Build Your Business.
Frequently Asked Questions
1.

Would this warranty cover a duplex or would it cover a property with more than one unit on a site?
If there is more than one unit on a site or a duplex, each unit would need its own warranty. In other words, you will need to inspect each unit and draw up and inspection report for each unit and then issue a warranty for each. Yes, the warranty does cover manufactured or trailer homes.
2.

How are claims handled?
The homeowner would call CP™ to obtain authorization and initiate the claim. Complete Protection can be reached at (800) 978-2022. All claims are handled over the phone – 24 hours a day, 365 days a year. The homeowner could choose to go with a local technician, or CP™ would refer someone from their network (if available). There is no out-of-pocket expense for the service call. The plan runs for 120 days following the initial date of the inspection or 30 days after closing on the home, whichever is later.
3.

What is the cost per warranty?
Warranties don't have to cost you anything. You can choose to roll the cost of the warranty into your inspection fee or add it on as a separate line item on your invoice. We have several packs available for purchase and the cost goes down depending on which pack you choose. Inspectors who choose to get their E&O through OREP qualify for the lowest rate: OREP member rate - $12.50 a warranty. You do not have to be an OREP member to participate in the warranty program.
4.

Does the 120-Day Warranty cover Pre-listing or Maintenance
home inspections?
Yes the 120-Day Warranty does cover pre-listing inspections and maintenance. We would just need to update the contract information once the seller transitions the home to the buyer. It would be active 120 days from the day of the inspection. 
5.

How are warranties issued?
You or someone on your inspection team will issue the warranty by the Monday evening at midnight following the inspection through an online portal, or you can choose to participate in the ISN program. If you use ISN for your inspections, every warranty entered in ISN will automatically get an inspection.
If you enter warranties through the OREP portal, we recommend that you send the inspection report first to your client and notify them that you are going to issue the warranty. Once you issue a warranty, the client will receive an email with a copy of the warranty and instructions to call Complete Protection if they need to make claim. 
6.

Do I include a copy of the inspection report?
You do not need to include a copy of the inspection report or collect serial numbers for appliances. Your client may be asked to send a copy of the inspection report to Complete Protection during the claim process.
7.

How long does it take to issue a warranty?
Using the portal on OREP.org/warranty you can issue warranties one by one using the short form which takes about 3 minutes per warranty, or you can bulk upload a .csv file and automatically issue up to 10 warranties at a time. Alternatively, if you participate in the ISN program there is no time at all to issue warranties because every inspection entered will automatically get a warranty.
8.

Do I have to give warranties to every client?
You can choose who you give the warranty to if you use the OREP portal to issue warranties. Use warranties as a way to give yourself an edge over your competition or offer a warranty for customers who are on the fence about using you for the inspection. If you use the ISN program a warranty will be issued automatically for every inspection entered.
9.

Does the warranty cover large homes with multiple
HVAC systems?
Yes, the warranty will protect larger homes.
10.

Could the client extend the warranty past
the coverage period?
Yes. CP™ has four customizable plans to choose from to fit warranty needs, purchased monthly or annually. The pricing for direct-to-consumer plans is available on the Complete Protection website.
New Customers: For only $140 we'll give you 20 warranties for first-time customers with the purchase of the Inspector Saver Pack. Plus! The Ready-to-Go Marketing Kit is included with this product purchase. 
Grow your business and reduce your headaches with very little risk.
Complete Protection has been serving home
inspectors since 2006 and is recognized by the
Better Business Bureau. Terms and
Conditions apply. Warranty not covered
in CA and WI. Canadian Provinces not covered:
BC, Newfoundland/Labrador, Quebec, Saskatchewan,
NW Territories, Nunavut, Yukon.